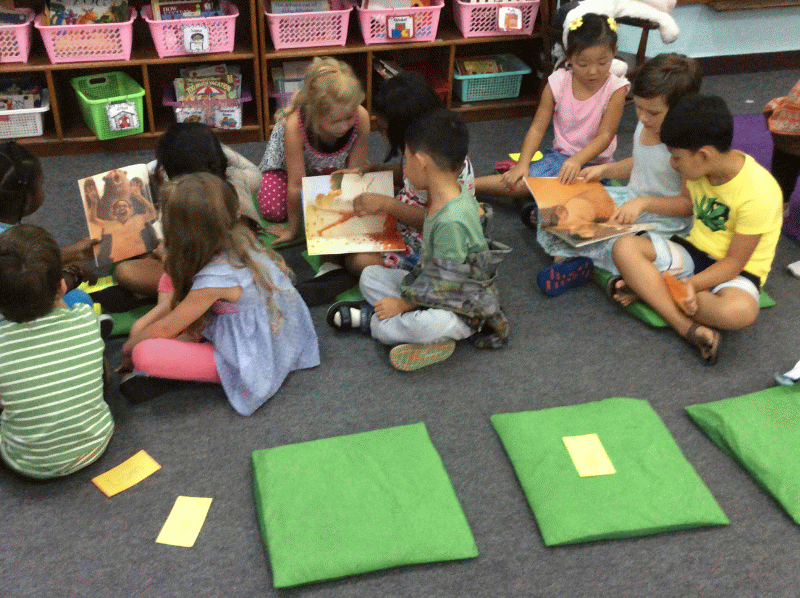 Week 3 in Primary 1
Good afternoon,
Again thank you to all who were able to come to the Back to School Night.
The kids continue to be introduced to new reading, writing, and math skills and strategies. They are settling in well to their roles as Primary 1 students.
Reading
The kids have worked on reading on their own and with a partner.
They are practicing reading the pictures of nonfiction books, or as we call them in class "Learn About the World" books.
The kids learned how to use whisper phones during private and independent reading time.
They have learned and practiced how to retell a story by connecting all the pages and adding a pinch of them (something they liked or something the story reminds them of).
Writing
The kids have begun adding labels to their pictures.
They have been introduced to spelling strategies:
o   Use the word wall
o   Stretch out the word (say it slowly and write the sounds you hear)
The kids continue to draw and write about things they know and want to share with others.
Math
Manipulated play dough to make numbers three and four
Learned to play "I have….Who has…?" with numbers
Created their own birthday graph by asking their classmates when they were born and recording the data
Science/Social Studies
The kids continue to practice the rules and expectations of the class.
We've discussed the following questions:
o   Who makes the rules/expectations?
o   Who ensures they are being followed?
o   Are all rules good?
o   Why do we have rules/expectations?
 Communication
The kids have been practicing "Turn and Talk" where they share their ideas on a topic with a friend near them.
Technology
The kids were introduced to the iPads this week.
They are able to independently sign-on to Raz-Kids and choose books to read.
Some other apps that will be used during class include:
o   Teach Me: Kindergarten
o   ABC Genius
o   Preschool and Kindergarten Learning Games
o   Starfall ABCs
o   Sight Words 1-100
o   IXL
o   Magnetic ABC
Other
If your child gets the lunch provided by the canteen, please remember to submit the lunch order this weekend. Also, contact the front office by 9:30am if you need to cancel a lunch order in the future for any reason.
On Wednesdays we will go to the library, where the kids can check out books and take them home to read. Please be sure to send them back each Wednesday so that your child can check out new books.
PE is on Tuesdays, Wednesdays, and Fridays. Please remember to send your child with their swimming costume, towel, and goggles.
Take Home Folder
Please send the folder back with your child each day.
This weekend, I would recommend logging into Raz-Kids so that your child may listen to different stories. Also, Numbers and Counting Up to 10, lesson C.6 and C.7 on IXL would reinforce the counting practice we did this week in class.
Kindest Regards,
Colleen and Tripta