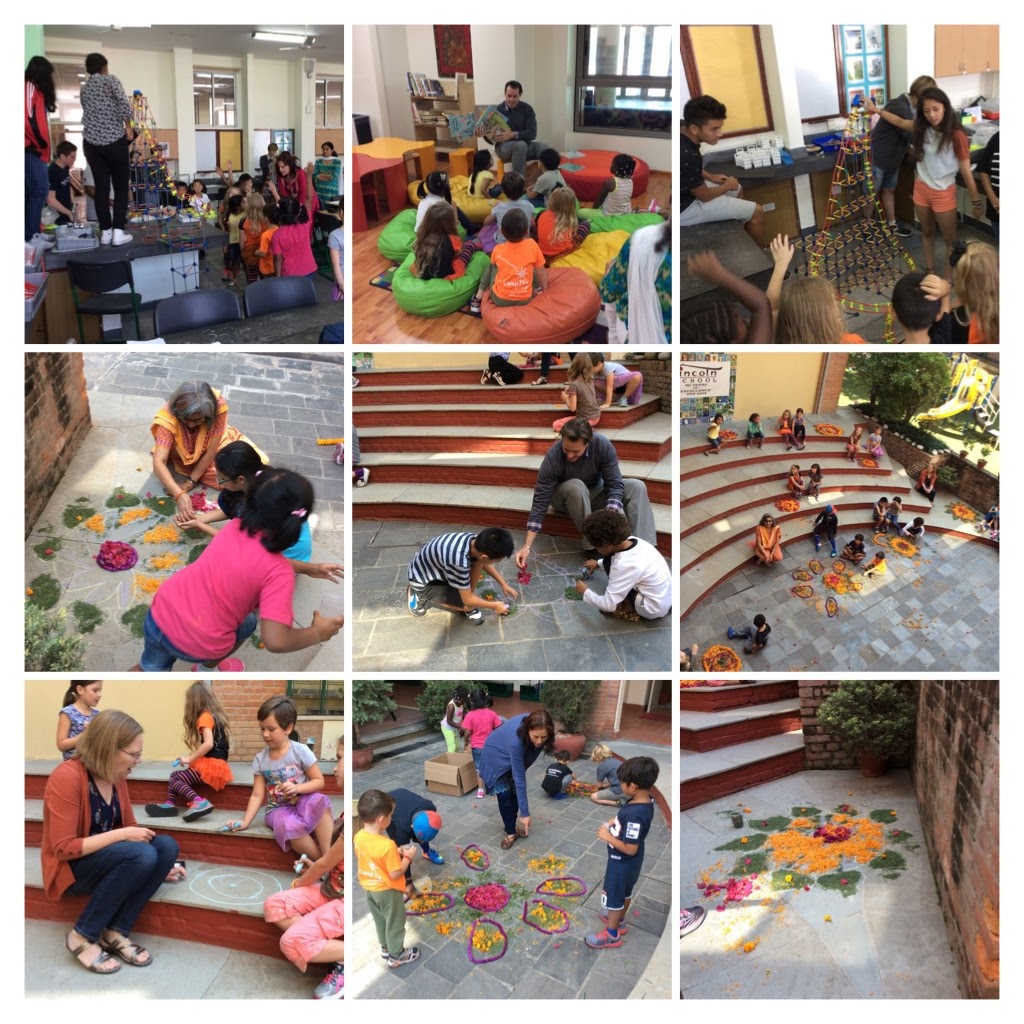 Week 11 in Primary 1
Good afternoon,
It was a short but productive week.
Reading
The kids have been practicing pointing to each word in the texts that they are reading. They have also been trying to make the words they say and the words on the page match by looking and thinking about the sounds in each word.
They have been focused during our small group work and word workstations. The kids seem to love listening to stories on Raz-Kids.
Writing
In writing, the kids have continued to write true stories about themselves. They have been focusing on the writing process. They wrote about Tihar and other life events.
Math
The kids have been working on solving addition and subtraction number stories using counters, pictures, and number lines.
Science/Social Studies
This week the kids made Rangolis with their Grade 3 buddy to celebrate Tihar. They also wrote about the five days of Tihar during our Wednesday writing time.
The kids went to the high school science room to observe and enjoy the rollercoasters that they had made. P1 really enjoyed their time there and are motivated to create their own.
Other
There is no school on Thursday, October 19, and Friday, October 20 do to the Tihar Break. School will resume on Monday, October 23.
As you may have seen already, Mr. Jeremiah sent out an email about "Trunk or Treat". If you would like to participate in this, please send 300 Rupees with your child to give to Mr. Jeremiah.
SAISA Opening Ceremonies – Thursday, October 26, 2017 starting at 8:10am. Parents are welcome to join for the festivities.
Spirit Week October 23 to October 27
Spirit days
International Dress – October 23
o   Wear clothes that represent your home country
o   Choose a friend and dress up like twins
o   Wear your PJ's to school
o   Wear Lincoln colors (red, black, and white)
o   Dress up like your favorite holiday
Literacy Week October 30-November 3 (more information to come)
Character Dress Up Day – October 31
Take Home Folder
Please send the folder back with your child each day.
This weekend, I would recommend logging into Raz-Kids so that your child may listen to different stories. Also, lessons J.1-J.8 under Addition Up to 10 on IXL would reinforce what we did this week in class.
Kindest Regards and Happy Tihar!
Colleen and Tripta