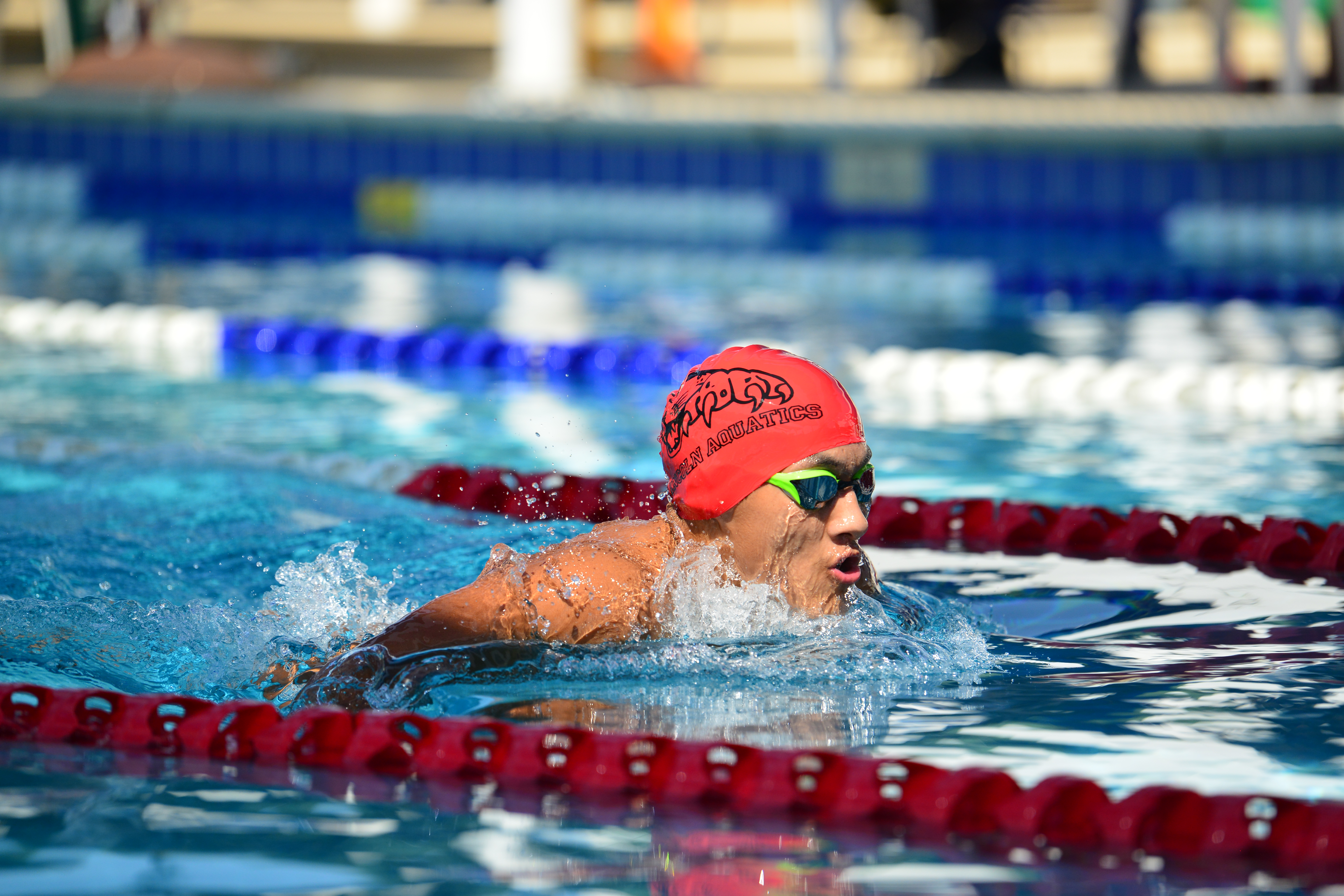 Lincoln Swimmers Shatter School & SAISA Records in Muscat!
01 Nov 2017
- Uncategorized
MUSCAT, Oman. — Lincoln School's swim team took Muscat by storm over the weekend, with a 3rd place overall finish, 12 SAISA record-breaking performances, over 40 school records, and 23 gold medals.
Our girls team finished second overall, and as champions in the 10-12 and 15-19 age group categories. Isabella handily broke the Lincoln School 50 freestyle record with a 30.11, and set SAISA records in the 100 freestyle (1:06.1), 200 freestyle, and 100 butterfly events for the 10-12 girls age bracket. Izzy set school records in the 50 breast, 100 IM, 200 IM, 100 back, and 100 breast, and Ashwini finished third in the 50 and 100 butterfly, beating her own personal bests by several seconds each. Our other 10-12 girls also greatly improved on their previous performances.
Tisa added an incredible six (100 free, 200 free, 100 breast, 200 breast, 100 IM, 200 IM) 13-14 girls SAISA records to her already impressive resumé, including an outstanding swim in the 200 breast with a time of 2:56.34, smashing the previous SAISA record of 3:09.87, making her the fastest 200 female breaststroker at the meet for all age categories. Niamh made finals for all of her events, and placed third in a highly competitive 100 breaststroke race with a personal best time of 1:24.86.  
For the 15-19 girls, Oshina now holds a new 200 backstroke school record, and our girls – Niharika, Oshina, Akshara and Ayushma – destroyed the school and SAISA record for the 200 medley relay, then fought their way to more gold in the 400 freestyle relay with a time of 4:34.24. All these girls made finals in their events, with Niharika earning silver in the 100 breaststroke. 
Our boys also finished second overall, with a first place win in the 15-19 category. For the 10-12 boys, Atreya finished 4th in the 50 freestyle and 100 freestyle, with a 5th place finish and personal best time of 36.63 in his 50 butterfly race. All of our of our other 10-12 boys swam 200s of breaststroke, butterfly, or IM in the 13-14 age bracket, hugely improving their own personal best times. 
In the 13-14 bracket, Alex snagged a "Phelpian" 7 gold medals, including an incredible 25.60 50 freestyle race to break his own school record, as well as setting 13-14 boys SAISA records in the 50 free, 100 free (56.38), 100 backstroke(1:04.5), and 200 free (2:07), and new school records in the 100 IM, 200 backstroke, and 50 butterfly. 
Our 15-19 boys – Ugyen, Jazz, Dane and Tomas – set school records in the 200 freestyle and 200 medley relays, and obliterated the SAISA record in the 400 freestyle relay with a time of 3:57.32. Jazz garnered new school records in the 200 freestyle, and 100 and 200 IMs, while Ugyen broke 15-19 age group school records in the 50 butterfly, 100 butterfly, 50 freestyle, 100 freestyle, and 100 breaststroke. 
Every single Lincoln swimmer captured personal best times, and several coaches from other schools approached Lincoln 's coaches to compliment our team's spirit, compassion, and sportsmanship. Although the outcomes of this year's SAISA swimming championships speak for themselves, the process – the base of the "success iceberg" – is what these swimmer's should be most proud of. They trained incredibly hard and their attitude, as well as their skills, earned the respect of everyone around them. 
LS Swim Coaches