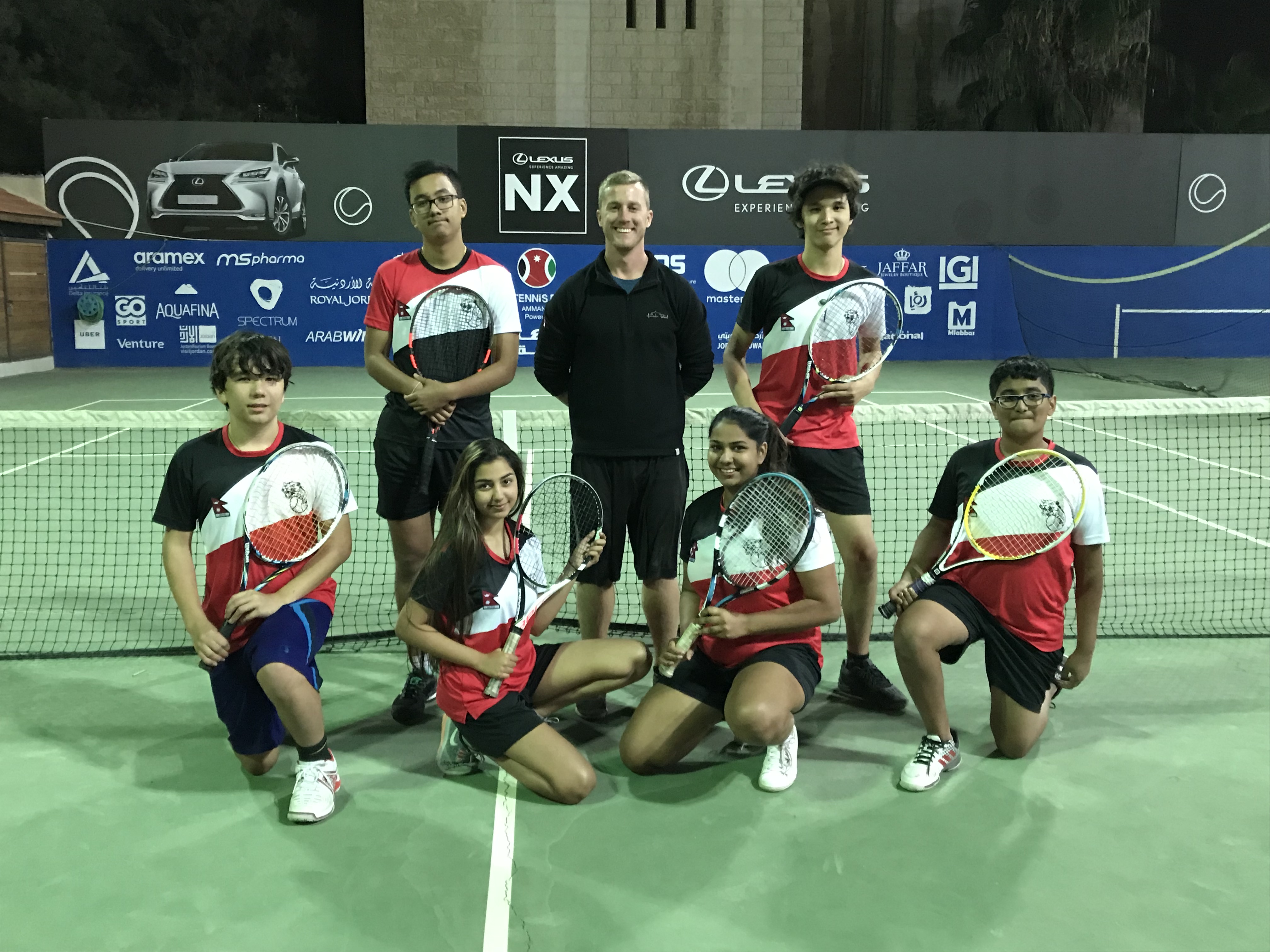 SAISA TENNIS: So Much More Than Game, Set & Match
22 Nov 2017
- Uncategorized
By Ishika A (grade 11)
AMMAN, Jordan. — Looking down at a sea of sand a thousand miles below me where life itself appeared impossible, I imagined the resilience of the people who seemed to be living in a terrain abandoned by life itself, and in between these thoughts Jigtral leaned over my shoulder and in an almost silent voice whispered "We're not in Kansas anymore Toto." Last Wednesday, my tennis teammates and I (Divash, Dorje, Jigtral, Abhi, Aisha, Coach Craig and Ms. Johnson) went on an exhilarating and breathtaking SAISA trip to Amman, Jordan, where we participated in a 3-day tournament, and between the corny jokes provided by Dorje and Jigtral, the love and care received from 'mom' Johnson and the many friends we made, it was without doubt one the most enjoyable experiences of my life.
On our first day in Jordan, our team, having reached a day early, had the privilege to visit what is, in my opinion, the coolest place on earth; the Dead Sea. ACS (The American Community School of Amman-our hosts) had kindly arranged for us to visit the Marriott Hotel for a quick dip in the sea as well as some relaxing by one of the 3 swimming pools, or for Abhi about 50 rides down the very cool water slide that the hotel also had. Being in the Dead Sea was like being on the moon, where gravity seemed to have no power and you could float without an effort or care in the world.
Later that day, we met our hosts and to Aisha's absolute delight, they not only had three daughters, but also a cat! Being hosted by a family was probably the part I was most apprehensive about. Staying with a host family for three days sounded like the perfect setting for awkward scenes to play out, but being hosted by them was one of the highlights of my trip. While Jigtral and Abhi could not stop talking about the waffles that their hosts provided, Aisha and I were content with pumpkin muffins and baked oats. Coach Craig, on the other hand, was considering dognapping Cooper, his host's dynamic pet.
The tennis at this point may seem like only a minor part of the trip, but playing from 9.00 am to almost 6.00 pm for three days, and having an array of opponents with different strengths and styles allowed me to gain experience and skill unparalleled by any amount of coaching. I had the privilege of playing against a nationally ranked player, Hiya from Jordan, and though I lost to her 1-6, being able to actually return her shots and even manage to get a game against her was one of the proudest moments of my life. I think all my teammates would agree that our skill improved immensely. Abhi, the youngest player on our team, played some of the best tennis and even won the mixed doubles tournament. Jigtral won his seed and Dorje came painfully close at 2nd place both impressing and amazing many players with their excellent game. Divash played against 4 of perhaps the best tennis players I have ever seen, being our 1st seed, and lost only twice, coming 3rd. Aisha was playing girls almost 4 years older than her and still managed to hold her known, returning shots of a strength she had never experienced before.
It was three incredible days filled with back to back matches, and when we weren't playing, we were watching and learning something from this person's serve or that person's backhand. Coaches from other schools often gave us advice whether it was something as small as telling us how excellent out serve was, or telling us to have a firmer wrist when at the net.
However, I think the best part of this entire trip were the friends we all made. Dorje and Divash, having gone last year, already knew a few of the players. There were even comments about the fear Divash, with his powerful play, inspired in their hearts still. We made friends with kids from Bombay, Chennai, Islamabad and, of course, Jordan. At the end of just three days of intense game play, which you would think would have pitted us against each other, we hugged each and every person goodbye having gotten to know every student and coach there and I think that's one of the most awe inspiring things about SAISA. On the courts, teenagers, who are essentially still kids, played seamlessly without the help of any sort of umpire, calling the ball right even when their opponent thought it was out, offering to re-do points and even when losing 6-0, having the grace to shake their opponents hand and tell them how well they played. Lincoln came away from the trip with 3 S-Pins for the whole team, and Dorje, Aisha and Abhi achieved individual ones, awarded to us for excellent sportsmanship and spirit by other teams.
I think overall I would recommend SAISA to anyone considering it, not only for the experience they will inevitably gain in their respective activities, but also for the friends they will make and probably see time and time again. To quote Nithiya, a girl from Chennai: her 'snap-map gonna be popping' after this trip, because the friends that we formed will stay with us for life and I have no doubt will follow us out of high school and into adulthood.