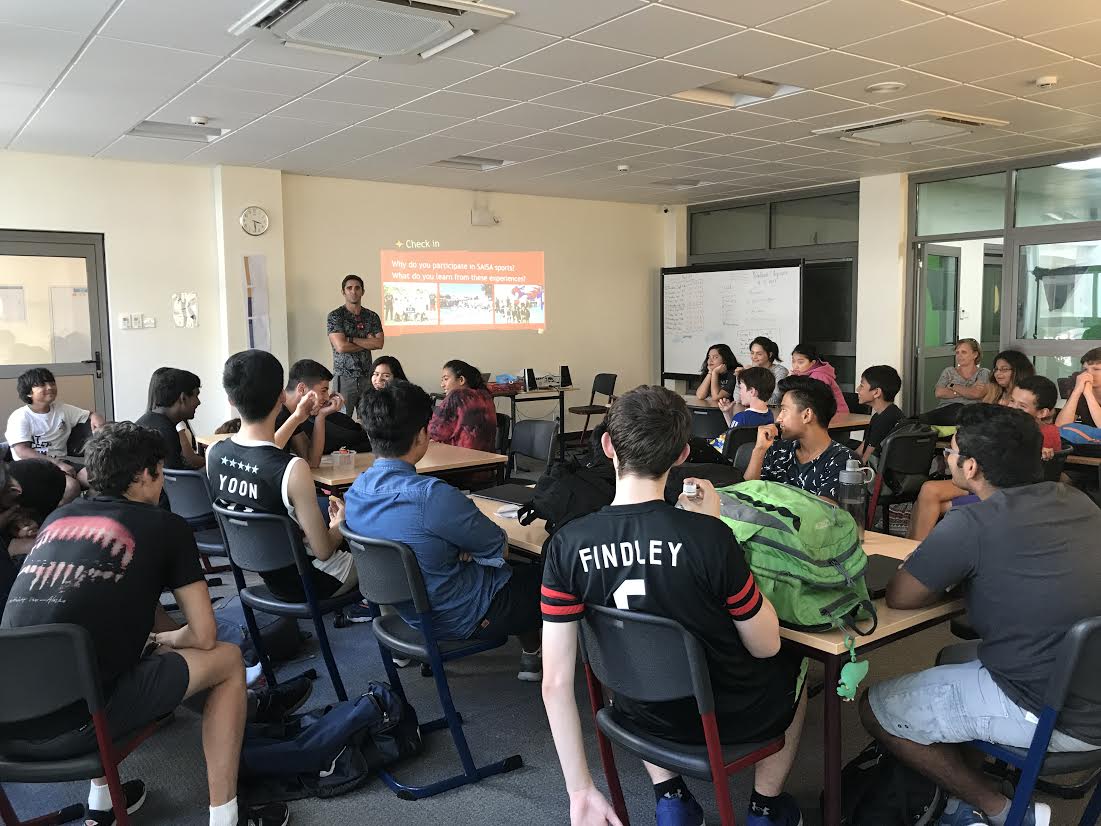 Lincoln Snow Leopards Win 5th SAISA Boys' Football Title on Home Soil!
14 Feb 2018
- Uncategorized
KATHMANDU, Nepal. — This group of footballers that I am proud of to be part of has grown as a team, a unit, and a family. The process of learning and development did not just occur this season, but for the past three years as this core group of players have grown and improved.
Three years ago in Chennai, we were a very young team, perhaps the youngest team in the tournament, and were comprised of players who were just getting a taste of SAISA football, a completely different level from lunchtime football, or the physicality that is present in local opponents. We had Eskil, in 8th grade, who had suffered a nagging injury and Alex, who is even younger. We mostly had 9th grade athletes like Avi, Avinash, Riwaj, Sheshank, Vishesh and Mateus who didn't have much SAISA football experience. We had Sangho and Prasant in 10th grade just starting to mature as players. During this tournament, we got the worst results in the Davis coaches' history in Lincoln. We thought perhaps that we could not carry on the strong tradition of Lincoln football; that we weren't good enough. We were wrong. There were only two new starters on the team this year compared to then: Tenzing and Sauharda. Now the members mentioned above were the core members of the team that just achieved the 5th SAISA championship for Lincoln.
In the bus ride from the airport, we memorized the moments and pain from that tournament in 2016, but we knew that in the future the clouds will fade and the sun will shine again. We would just have to wait until that 5th star is shown in the sky. We were up for this challenge of finding that star.
Time passed, and the team grew older, stronger, and wiser. We learned what it would take for us to achieve success, when we won other sports tournaments (basketball and volleyball) both locally and in SAISA. From this success in other sports, we knew that we were strong athletes that had the tools to be successful, but we never knew if we had enough for football.
When we heard that football was to be hosted here in Kathmandu, we were excited that we would have the home crowd cheering us on. We were confident that we would have the best chance due to the teams having to adjust to the different conditions in Kathmandu. We had performed well in the NISSA league, finishing 2nd and winning five of our seven matches. Although we only finished 3rd in NISSA tournament, we learned from our mistakes and warmed up for SAISA with matches against the U-16 Nepal National Team and the Armed Police Force. It was when we only lost 2-0 to this A-Division club that we knew we had the skills and know-how to defend anything that SAISA could throw at us.
The long awaited first game of the tournament against Colombo started with the whole secondary school cheering us on at the Armed Police Force stadium. It was our team's first time playing in front of such a big crowd, so we were a bit nervous and hesitant to begin with. However, our Snow Leopard support cheered every touch we made and that helped us play to the next level. In the end, we defeated Colombo 2-0 with two precisely calculated goals from Sauharda and Avi.
The next game was against Karachi, who had good midfielders that opened the game up for the two fast forwards. The game was tough, but with a powerful header off a corner from Sheshank (which he promised beforehand), and two great saves by Alex, we defeated Karachi by 1-0, keeping another clean sheet.
The following game against Dhaka was the game that we had anticipated the whole season. In the last two seasons, we had been defeated by Dhaka by margins we would rather not mention, and with the Lincoln team being close with Dhaka from other tournaments, we didn't want to lose the game in front of our home crowd. We took the lead early from an excellent Eskil free kick that hit the bar and went in off the keeper, and then defended well as a team until Avi put the ball in the back of the net after a brilliant defense splitting pass. When we defeated Dhaka, we knew that we were much better than we really thought. This match not only sent us into the semi finals but also gave us the belief that we could be champions.
In the final group game against Lahore, our team rested some of our starters knowing that we were through to the semi finals. However, less than two minutes into the game, Prasant scored a perfect goal that had us playing with confidence and our subs working hard. Unfortunately, Lahore's best player equalized in the 2nd half, taking our clean sheet roll, but we didn't let it get to us. Within a few minutes, we had a taken the lead again after Avinash was played through and finished under the keeper to make the final score 2-1.
The semi finals against Jordan were thought to be an easier game, as Jordan only had 10 players on the pitch. It was a mistake to think so, as ACS defended compact, not conceding many chances. We did have our opportunities against them, hitting the post twice and forcing their keeper into great saves, but it didn't seem like the luck was on our side at that moment. Time passed quickly as Jordan repelled our attacks, and we went to extra time and then to a penalty shootout. Even though we were disappointed to get to penalties, and Jordan was ecstatic, our coaches refocused us for the shootout. All players were calm when they stepped up to take their penalty and we slotted each one passed the keeper and into the corner of the net to win 5-4.
The final was against TAISM, who seemed to be an unstoppable force in pool play, winning all their games and not conceding a goal on route to the finals. Also, being in different groups, we had not seen them play all tournament, and from what we heard, TAISM was going to be a tough fight. Before the game, the coaches calmed us, affirming that we are stronger than we think. We have an awesome keeper, Alex, in the back; we have two great fullbacks who keep running in Riwaj and Vishesh; we have two experienced center backs that played with each other for the past three years in Sangho and Mateus; we have creativity and power in the midfield three of Sheshank, Eskil, and Sauharda; we have two fast and skilled wingers in Avinash and Tenzing; we have a multidimensional striker in Avi; and we have subs coming off the bench that can bring energy and change the game. We had all the tools that we needed to be successful.
We walked onto the field with much confidence, spurred on by the cheers of the home crowd. In the beginning, just like we expected, it was a hard battle with TAISM pressing hard. TAISM's players were big and physical, but we matched their physicality and intensity. We didn't let the physical play get in our head, and ended the first half with a great goal on the counter from Avi. Five minutes into the second half, Avi score what was the goal of the tournament: beating three players and then smashing the ball into the top corner from outside the box. Eskil then set-up Avi for his hat-trick and the number 7 then scored a penalty himself to end the game with a thumping 4-0 win!
The final was a great victory for us. When thinking about it, we took on the opponents that gave us those feelings of pains from previous years: we took down Dhaka, Jordan (who beat us in the semis last year), and finally TAISM, who beat us in the consolation final last year. It showed that we were stronger than we thought. For our team's potential to be fulfilled, we just needed time, hard work, and encouragement from all our teammates, coaches, and supporters.
When the final whistle blew, we felt the satisfaction of achieving our goals of playing as team and performing to our potential. We knew that for some of us this game would mean the end of our Lincoln football careers, but the feeling will forever be kept in our hearts. Because we know in the end, our teammates will stay with us to tell us and show us that "You will never walk alone."
By Sangho Yoon (Grade 12)