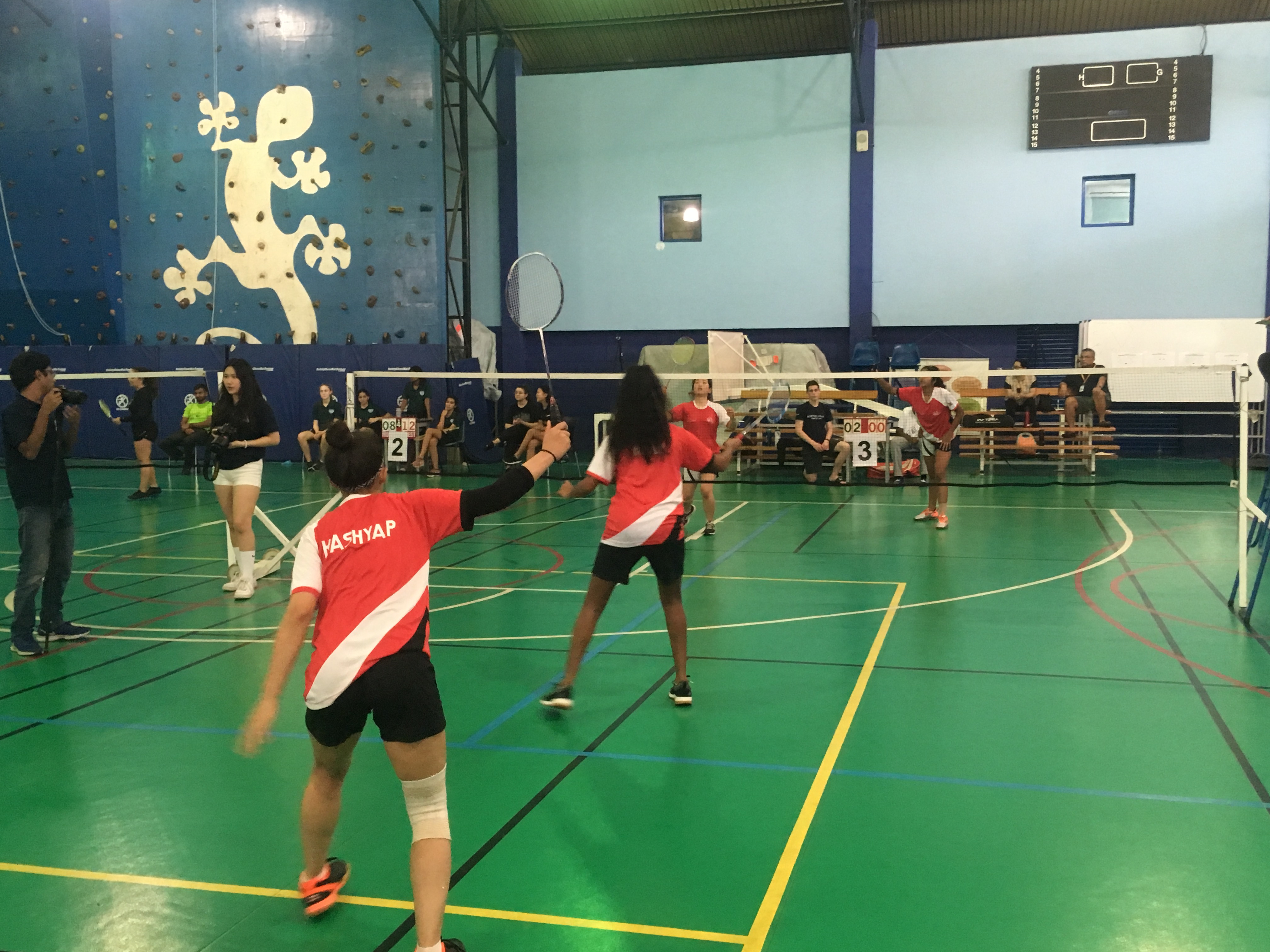 SAISA Badminton
23 Feb 2018
- Uncategorized
(Above: Lincoln's Hardika Kashyap and Areez Khan compete against the other Lincoln girls doubles team of Ritisha Mukherjee and Jeongyun Kim for Gold and Silver medals in the doubles consolation bracket tournament.)
Despite a change in coaching this year, the SAISA Badminton team continued to grow as individuals and a whole team. The season started off a little slow with many of the returning players feeling a little rusty and wondering who the last few people to complete the team would be. As the season continued, the rust was shaken off and everyone started to develop their skills and game.
SAISA was fast approaching and practice time seemed to be getting shorter and shorter. The travel team was at last selected as we closed in on the final stretch of practices before we left for Colombo. After a long day of travel, we landed in Colombo and were shown to our hotel for the night. The next day we relaxed on the beach and mentally prepared for the first day of the tournament.
Sri Lanka's beautiful beaches!
We smashed the first day in winning both of first two team competitions against schools Karachi and OSC B team. The next day we lost an extremely hard fought match up against Chennai, losing 6-10. Afterwards, we faced a tough Bombay and ISOI team, and although we lost both games, we had fun competing and met many new amazing people.
Coach Char give the boys' doubles team a pep-talk before their matches.
The last day of competing finally came around for the individual tournament and boys and girls doubles tournament. Lincoln did very well throughout with the Lincoln girls coming 1st and 2nd in the consolation finals for doubles and one of the boys' teams coming 4th. Additionally, Jeongyun Kim finished 3rd in the consolation bracket, matching her best finish from last year.
Below: Jeongyun Kim competes in the singles consolation bracket in which she finished third, winning a bronze medal.
The last day came to a close and so did the tournament. The whole team met tons of new people and made many new friends throughout the electrifying event. Regardless of our result, we all had so much fun competing in the event and hopefully, we'll be even stronger and have even more fun next year!
Both Girls Doubles teams before their final matchup against each other. Way to go Lady Snow Leopards!
The Boys stay warm between matches by playing a humorous game of "hand-badminton." The girls agree to officiate the heated matchup. Now that's some team camaraderie right there!