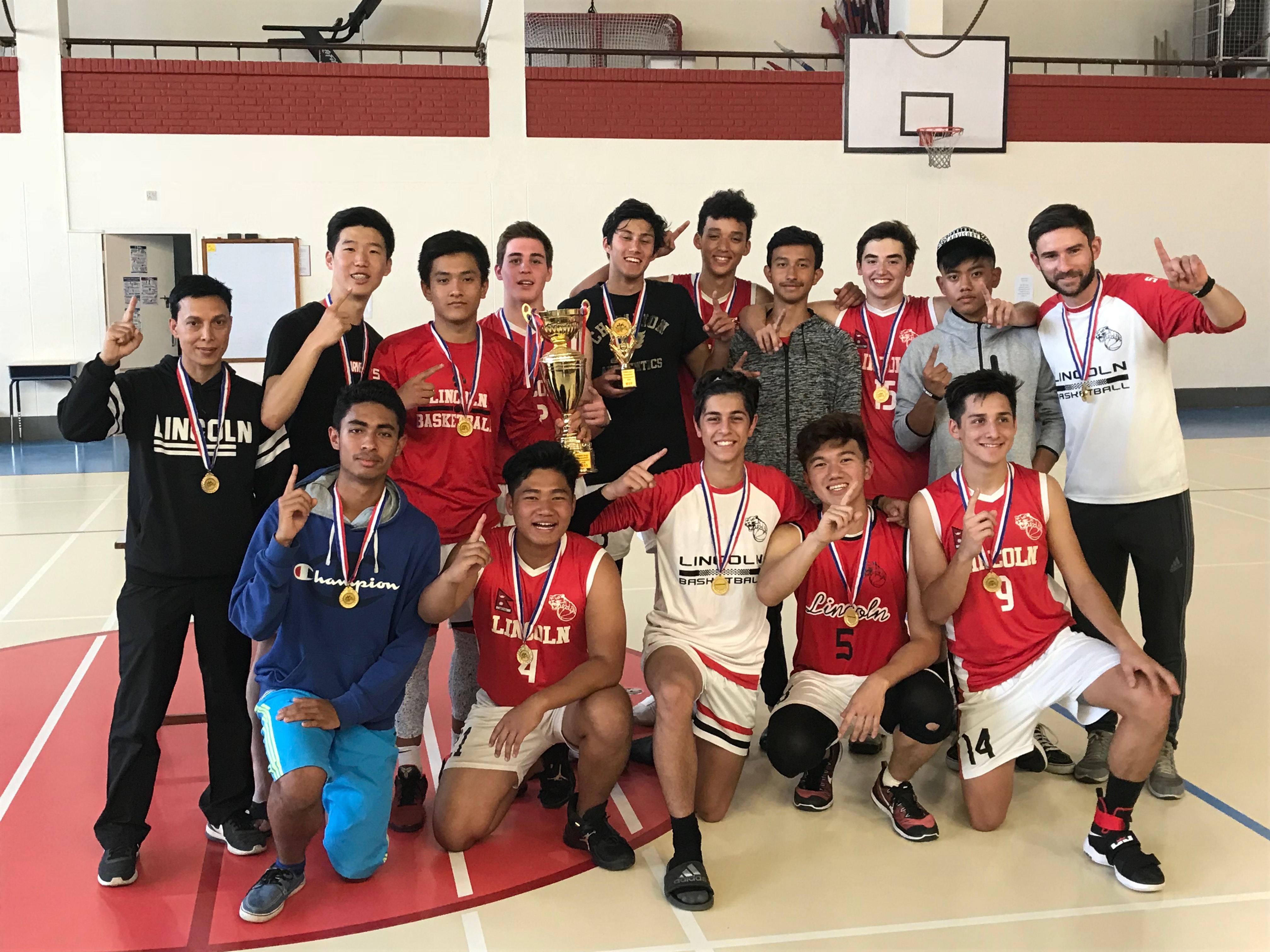 Lincoln Boys' Basketball Team Triumph in NISSA Cup
20 Mar 2018
- Uncategorized
KATHMANDU, Nepal. — March 17th was another great day for the Snow Leopards with both the girls' football and boys' basketball teams competing strongly with other local schools in the Lincoln School hosted NISSA Cup. The games were underway early on Saturday with a double-header vs TBS. In the boys tournament, despite good early fight from TBS, Lincoln's superior skill level, athleticism and tactical know-how showed as the Snow Leopards ran away with a 69-36 win. All players got good minutes on the court with the starters fresh for the final vs KISC after the latter defeated RBS in the other semi-final.
In the girls' football, the Snow Leopards started strongly and were 1-0 and then 2-1 up vs TBS, but conceding two quick goals in the 2nd half, meant that Lincoln had to defeat KISC to play in the final. In the game against KISC, the Snow Leopards again dominated possession, but were unable to convert their chances, and then conceded unfortunate goals on the break that meant that they would not have an opportunity to defend their NISSA trophy. Despite this, the performances were great learning experiences for the girls, who have reflected on their strengths and areas for growth.
During the lunch break, we welcomed the Engage wheelchair Basketball players to raise awareness about their sport in Nepal and watch a 3 v 3 exhibition match, which was well-supported by the participating student-athletes!
Moving on to the finals of the Basketball, the Snow Leopards were favorites to record back-to-back-to-back NISSA Championships and they did not disappoint. Despite a spirited display from KISC, the Snow Leopards wore down the opposition with their strong all-round game. Especially impressive was Lincoln's defensive display, limiting a normally free-scoring KISC team to very few scoring opportunities. The Snow Leopards, on the other hand, stormed through the 3rd quarter to take a strong lead, which they never gave up, eventually winning the championship game by over 20 points.  Go Lincoln!