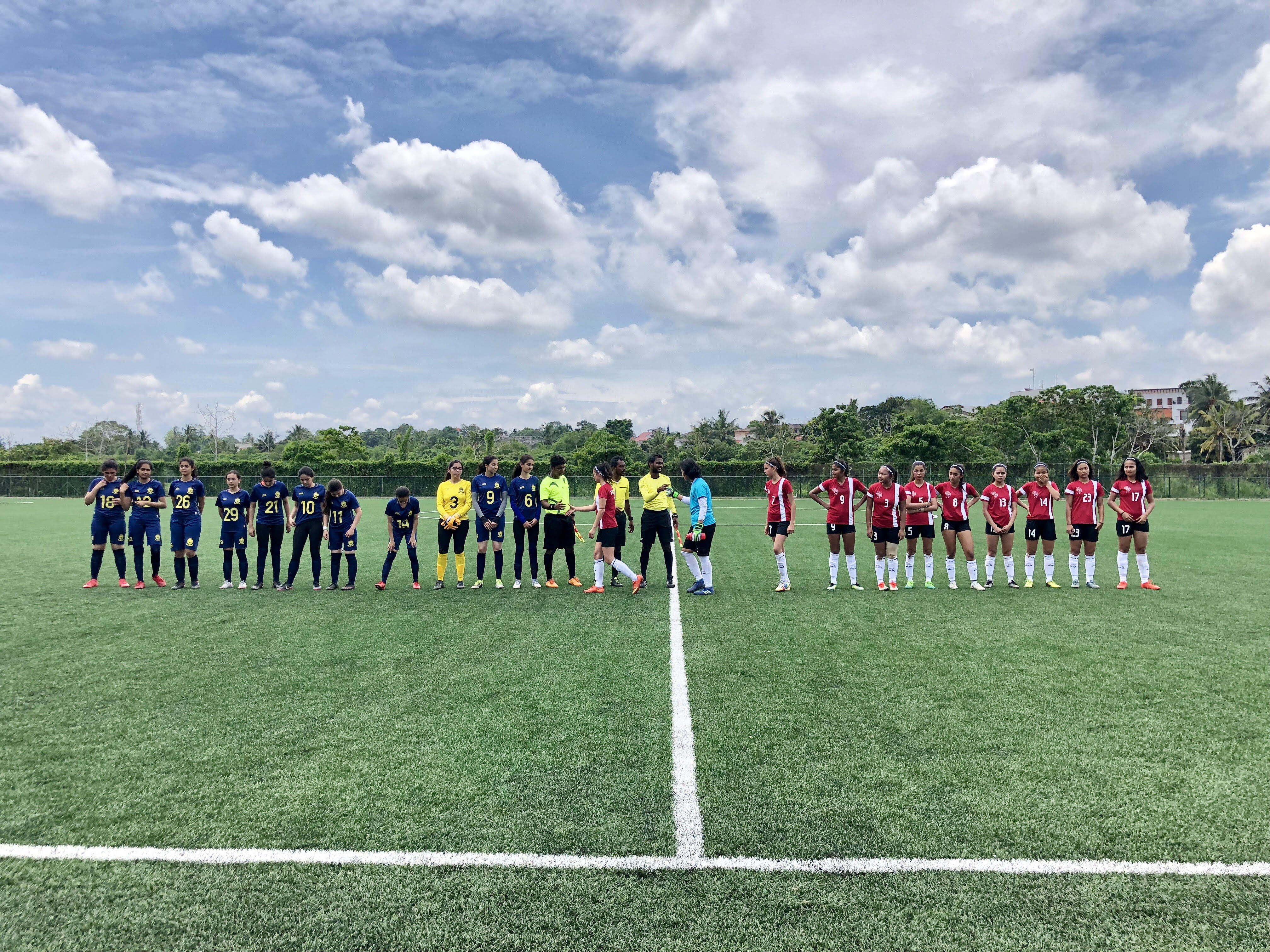 Lincoln Girls' Football Wins Hearts in Colombo
30 Apr 2018
- Uncategorized
COLOMBO, Sri-Lanka. — Despite being a young team comprised almost entirely of middle-schoolers and freshmen, the Lincoln School girls football team kicked off the season with high heads and spirited hearts. The NISSA games began almost immediately, and it didn't take long to feel the void past teammates had left. There were a few games where we played really well, but as a fairly inexperienced team, we felt a lack of "gel" and as a result, didn't place as well as we would have liked or had expected at the final tournament.
Even so, we weren't put down. In the next month and half, we came to each practice with bright smiles and an eagerness to learn, and in the process, developed not only our stamina and skills, but also our relationships with one another. More challenges were faced as two key players announced they couldn't travel and while it was a setback, we kept moving forward. We were willing to do anything to ensure a successful SAISA. Some of us would even practice wearing extra clothing to prepare us for the heat and humidity awaiting us at Colombo, Sri Lanka, but the second we stepped out of the airplane, we laughed, knowing it had in no way done so.
Thursday, April 19th came quickly, and SAISA was finally underway. We began the tournament strong, winning both our games on the first day 3-0. Our offense was an unstoppable force, shooting ball after ball and sending six of them to the back of the opponent's net. Our defense, with our star goalie, Sarya, behind us, also displayed immense strength, with interrupting each run and deflecting every shot. At the end of the first day, we were feeling quite spirited, being the only team to have conceded zero goals; we were on our way to being one of the first seed teams into the semis.
After drawing 0-0 with AISD, all we needed was a point from our fourth game against the home team, OSC, to progress to the semis. Their entire school was present cheering for their team, and it got to us. We starting making mistakes, and before the end of the first half, we had conceded a goal. We played significantly better in the second half; we sent shot after shot at their goal but unfortunately, none of them went in. Then things took a turn for the worst. A lightning storm broke, and not too long into it, our goalie got injured after colliding with another player. With the thunderstorm getting closer, there were shouts to get off the pitch, people directing us to the gym, cries for Sarya, and tears knowing we weren't going to make it to the semis.
At the end of the day, we all learned valuable lessons. Not just in regard to football, but life as well. Win some, lose some, but no matter what we'd provide unconditional support to each other. As Coach Anne put it, even the greatest teams can lose to anyone on a bad day. We knew what our mistakes were and made it our mission to correct it in our next game. We played our last game against ASB the following day and honestly, it was one of our best games in the entire season. We made strong, accurate passes, took shots when we could and even though we had to find a last minute, replacement goalie, we only conceded one goal.
We finished the tournament in 6th place, which is amazing considering we scored six goals and only conceded two in our five matches.  While it wasn't what we had hoped for, I couldn't be prouder of the selfless dedication, determination, support, and spirit that this group of girls displayed not only over SAISA, but the entire season.
Go Lady Leopards!
By Niharika