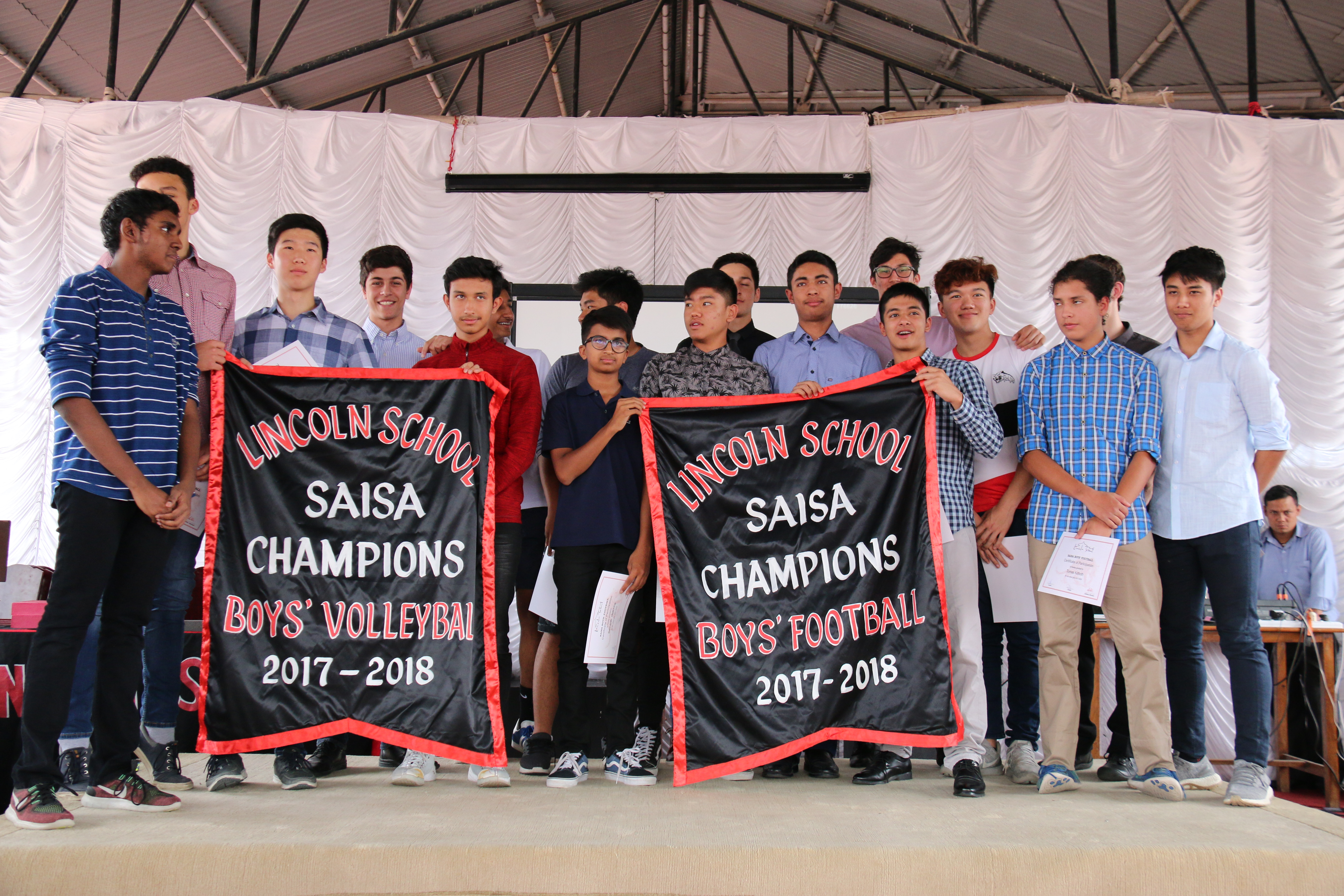 Lincoln Learners Celebrate their Pursuit of Dreams!
08 Jun 2018
- Uncategorized
On the penultimate day of the school year, over 200 students, parents, teachers, coaches and administrators gathered on our transformed elementary school rooftop to celebrate our students' pursuit of dreams during the 2017-2018 school year. Our secondary students, dressed for the occasion, indulged in a great feast, and cheered on their peers and teammates during the banquet. Teachers and coaches put great thought into their speeches, and recognized some outstanding groups and individuals for their contributions to our programs, including each team's MVP, MIP and Coaches Award, as well as the Athlete of the Year and Snow Leopard Awards.
Here are some of the highlights:
The year began with hosting the LS Invitational Volleyball & Swimming Championships, that included local clubs and schools, as well the American Embassy School in New Delhi.

Our girls won this invitational Volleyball tournament, while our boys' only lost to a club team.

We won the 3rd Annual Lincoln Invitational Swimming Championships with many outstanding performances.

We hosted SAISA Girls' Volleyball and successfully defended our title! For our girls' team, this is the 5th year in succession that we have either won or been in the final. An incredible record.  

Our Boys' Volleyball team was also back to back SAISA champions! This is a record 9 SAISA titles for Boys' Volleyball after a thrilling 5-set battle vs AISD in the final.

We travelled to Muscat, Oman for SAISA Swimming, where our girls' and boys' teams both finished 2nd, and achieved 12

SAISA record-breaking performances, broke over 50 school records, and won 23 gold medals!

Also for swimming, our 10-12 girls and 15-19 girls & boys were all SAISA champions. It was an incredible first season of swimming and volleyball!
We took a team of 6 players and 2 coaches for an incredible Tennis and cultural experience in Amman, Jordan.  

We attended a MUN conference in Holland and hosted a small MUN conference in the Spring.

We hosted a very successful SAISA Art Festival with a number of schools participating in the region, and our students producing fantastic work under the guidance of professionals.

Our SAISA Girls' Basketball team had a fantastic 2nd place finish in Mumbai and also made it to the finals of the NISSA Championships we hosted.
Our SAISA Boys' Football team finished 2nd in the NISSA league, before we hosted a 10-team SAISA tournament off-campus and went through the tournament undefeated, winning our 5th SAISA Boys' Football Championships!

Our Badminton team traveled to Colombo and continues to show strong growth.

Our SAISA Girls' Football team finished 2nd in the NISSA league, and then traveled to Colombo, where they finished 6th overall despite some strong performances.

SAISA Track and Field had some wonderful individual performances and were 10-12 girls champions, while our 13-14 girls finished 2nd place.

We hosted the NISSA Boys' Basketball Tournament again this year and our team won for the 3rd year in a row with some outstanding play. The team also traveled to Muscat where they did not play to their potential, but learned valuable lessons.

A successful series of secondary one-act play productions was performed.

MS Male Athlete of the Year: Atreya K
MS Female Athlete of the Year: Niamh P
HS Male Athlete of the Year: Avi R
HS Female Athlete of the Year: Ayushma T
Snow Leopard Award: Sarya T-M & Niharika T