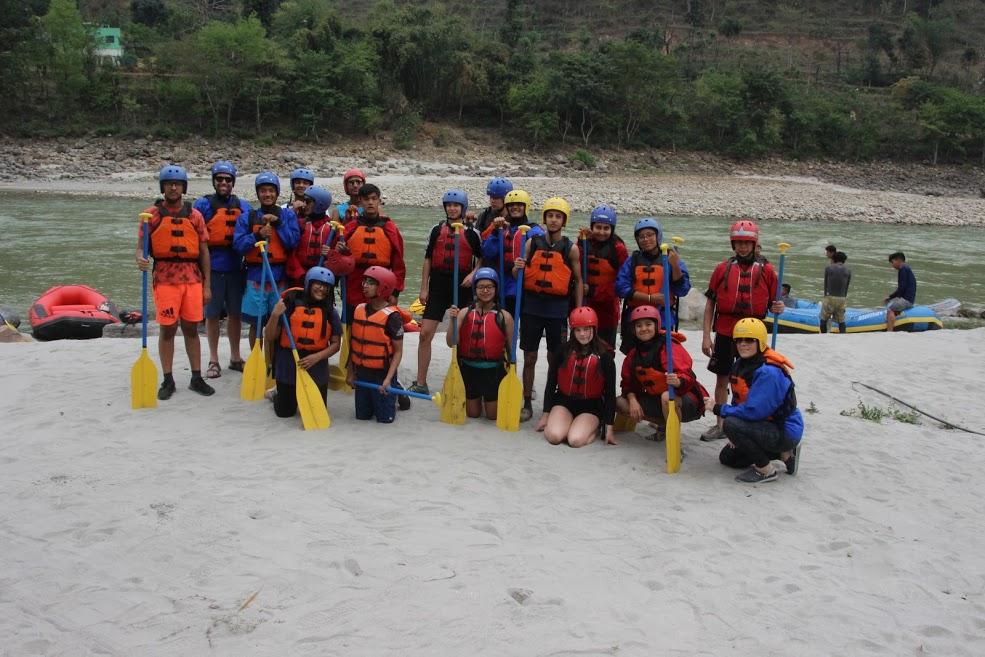 Service Nepal: Grade 10 Rafting and Water Safety
10 Apr 2019
- Uncategorized
Service Nepal provided many opportunities for each student to grow and develop with team building activities, as well as intrinsic individual growth. The Service Nepal trip kicked off to a thrilling start with rafting as the first hurdle of our voyage. We geared up for rafting and were taught how to paddle and the different actions to take in different situations. Rafting was a very exciting experience for us, as most of us had never done it before. We rafted for about 3 hours and it was extremely tiring. When we finally arrived at the campsite, it was difficult to carry all the dry bags and school supplies to the site, but we managed.
We went to Gandaki Primary School in Gorkha District where we painted and taught the students PLUM lessons and basic Water Safety. The children of Gandaki and the Lincoln students enjoyed the interactions and grew strong bonds with the younger students of the Gandaki primary school. The journey to Gandaki Primary School also proved very challenging as the school is on the summit of the hill, however the LS students pushed through this difficult journey carrying supplies such as paint, buckets, and brushes to the school.
Through this trip we saw the true beauty of Nepal and Nepal got to see the true beauty in us (care, love, and compassion). If we have learned anything as a class about this trip, it was that we must not only think about ourselves, but our social responsibilities too. Our class was able to experience a trip in a joyful manner through dancing, singing, and enjoying the campfire with each other. We ended on a good note and the experience was everything we hoped and more. We were able to jump out of our social media and our comfort zones and experience the trip and nature as a whole.
~ The Grade 10 Advisory