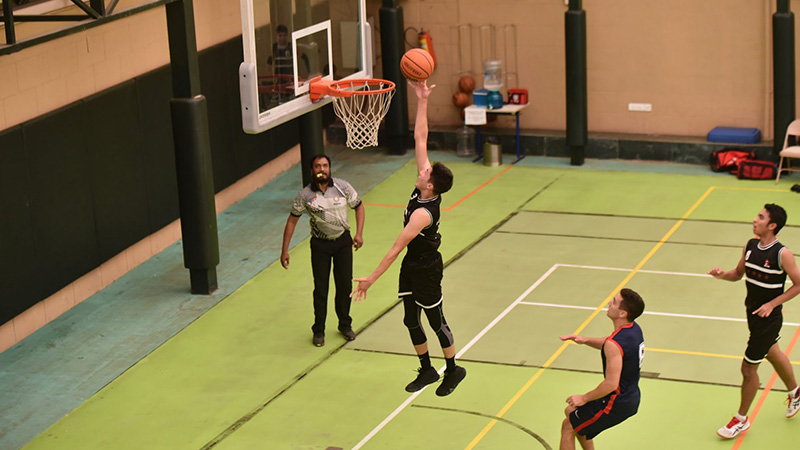 Snow Leopards Reach Basketball Finals for 3rd Time in 4 Years!
MUMBAI, India. — For seven of the twelve players that traveled for SAISA Boys' Basketball, it was our last SAISA experience. Mateus, Sheshank, Dane, Eskil, Ishan, Avinash and Avi have been on this team for more than three years and not only have we grown as basketball players, but also as teammates, friends and brothers.
Although we had a very short season and Coach S. Davis was away on paternity leave, we were able to keep our focus, intensity and improve everyday. We were lucky to be able to train with a local club team, the Himalayan Hounds, every Monday and Tuesday to play at a higher level, preparing us for the SAISA tournament.
This SAISA Boys' Basketball tournament was action-packed, filled with many learning opportunities for the team. The first tournament day was a tough one for the Lincoln School boys. The team ended up playing two of the favorites to win the tournament and ended up losing both games on that first day. While disheartening, the coaches told the boys to keep their heads up and not to give up.
The boys had something to prove the second day and came out strong (even with a slow start) with a win against the OSC Geckos. The brought them into the quarter-finals with a match-up against TAISM. The boys played TAISM with great energy and a high press that was simply too much for the opposition.
Encouraged by their win, the boys went on to the semi-finals to play the Chennai Raptors for a second time. Having previously lost to the Raptors, the boys were itching to face them again. The Snow Leopards took Chennai by storm with high energy plays and intensity, shocking the competition. The Snow Leopards now found themselves in a SAISA Boys' Basketball final for the third time in four years.
Our motto, "Big Heart and Strong Mind," led us to the SAISA finals. Although we didn't have the best first day, each and every game we improved, picking up the tempo and leaving teams shocked with our high intensity basketball. Beating a home court team like Bombay is always tough, but all of the boys showed incredible heart and put up an amazing fight. Overall, the SAISA Boys' Basketball team truly showed their Lincoln Snow Leopard spirit in this epic SAISA boys basketball tournament.
SAISA Boys Basketball Seniors