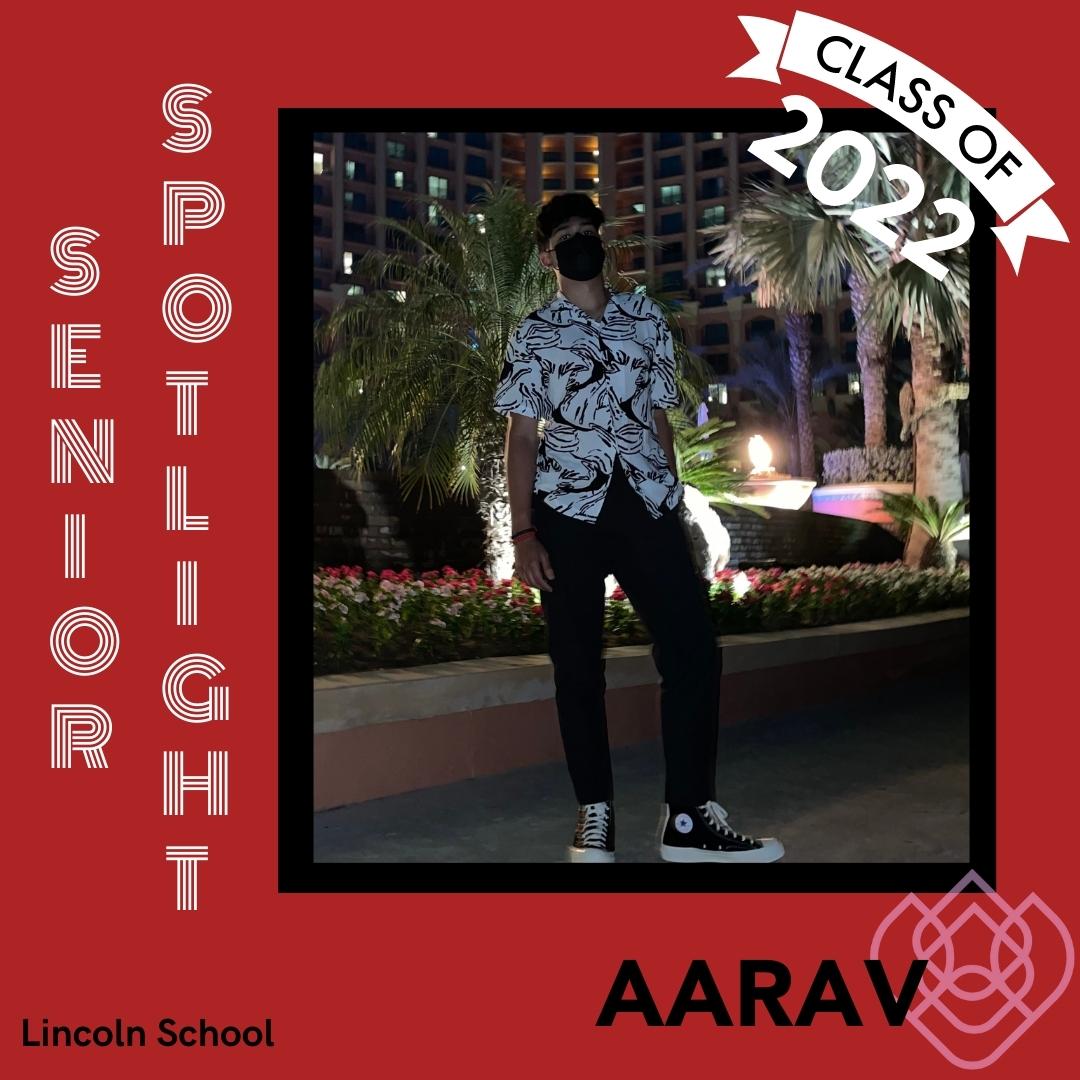 Senior Spotlight: Aarav
10 May 2022
-
Activities
,
Expressions
,
Global Citizens
,
News
,
Pillar: Compassionate Global Citizens and Leaders
,
Pillar: Confidence and Competence to Pursue Dreams
,
Pillar: Passion for Learning
,
Pillar: Stewards of the Environment
,
Recent
,
SAISA
,
Volleyball
Leading up to Graduation, we will be highlighting members of the Class of 2022. Today, we recognize Aarav, who has been at Lincoln for 10 years. "Honestly, there are so many favorite memories that a lot of them blur together," he shared. "One of my most memorable moments was the SAISA Volleyball Final during my Freshman year, which was the first time I had made the Volleyball team. The energy and emotion on the court was literally palpable, and it was a surreal experience. That's a memory that will always stick with me because it embodies the heart and spirit of Lincoln."
After graduation, Aarav is looking forward to being more independent. "I've never really had the opportunity to live outside of Nepal and away from my parents. I'll be able to experience a totally new aspect of life that I have previously not been privy to," he said. "The next few years are filled with so much potential and I'm just really excited to tap into that and create memories and experiences that will last a lifetime."
Aarav advises young Snow Leopards to truly listen to others. "When I say that, I mean genuinely listen to them. Take what wisdom you get and really make the most of it." He added, "When an opportunity for growth presents itself, it's in your best interest to always pursue it."
Filled with gratitude, Aarav would like to thank everyone who has made his Lincoln years a success. "To anyone who's supported me, taught me, criticized me, and helped me become who I am today: I am who I am due to the efforts, kindness, and generosity of many people, and it makes me so happy that I have so many people to thank that I can't even fit them on a list. From the bottom of my heart, you have my thanks."
We would also like to thank Aarav for all of his positive contributions to our Lincoln family. Thank you for being a fabulous Snow Leopard!