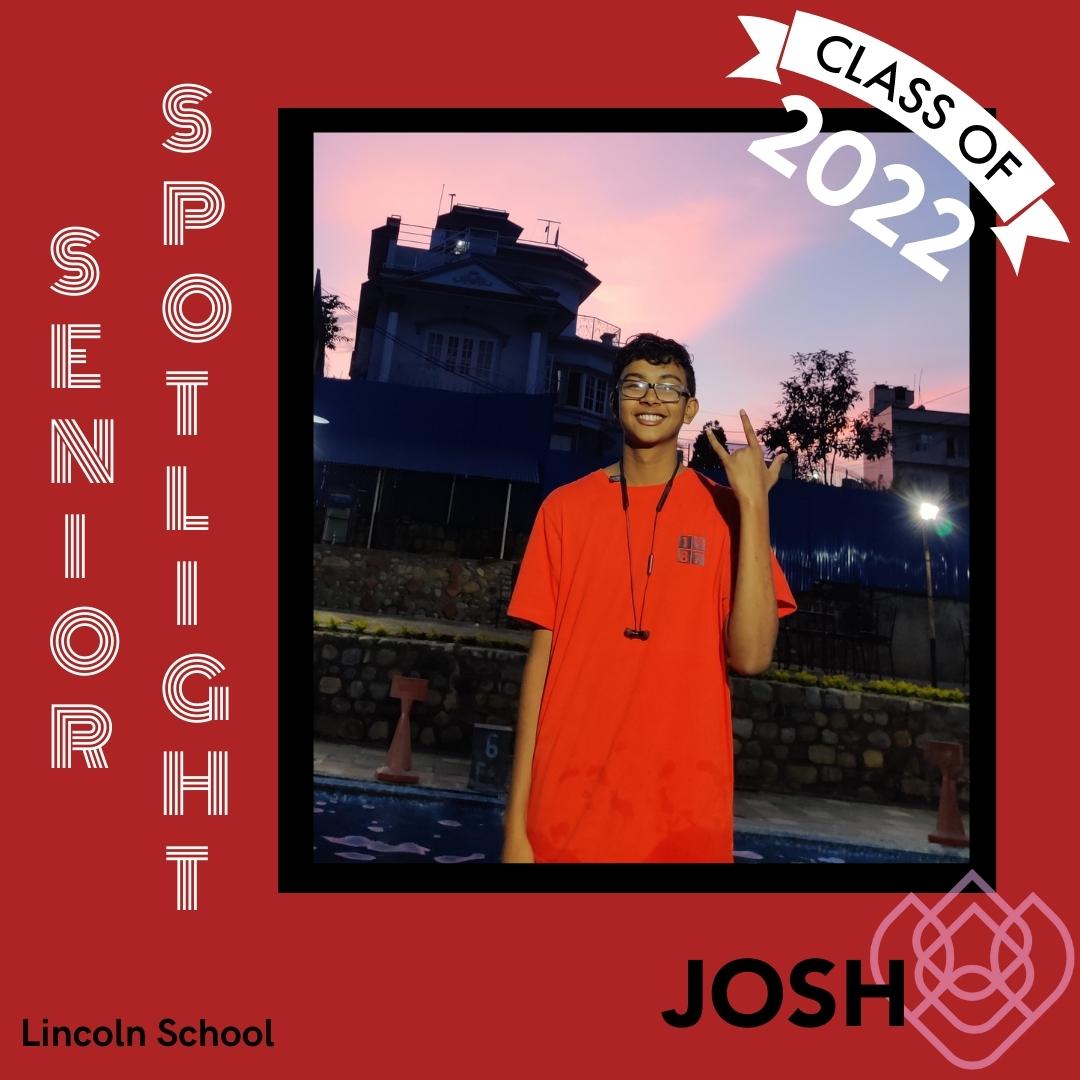 Senior Spotlight– Josh
21 Apr 2022
-
All_School
,
Blog
,
Expressions
,
Football
,
Global Citizens
,
High School
,
Library
,
Pillar: Compassionate Global Citizens and Leaders
,
Pillar: Confidence and Competence to Pursue Dreams
,
Pillar: Passion for Learning
,
Pillar: Stewards of the Environment
,
Recent
,
science
Leading up to Graduation, we will be highlighting members of the Class of 2022. Today, we recognize Josh, who has been part of the Lincoln family for 12 years. "A few of my favorite memories at Lincoln include the schoolwide Carnival in grade 1, Fabulous Fridays with Mrs. Shrestha's gust and enthusiasm, Youth Soccer with Mr. Anuj, and playing against a new opponent from different schools every Friday," he shared. "Other highlights include winning the Soccer Invitational tournament in 7th grade and traveling for SAISA Track & Field before the pandemic struck."
If Josh could trade places with any teacher, it would be Mr. Appleby, due to their mutual interest in math & science. "I can see myself helping students achieve success and get a minimum of 3 on their AP tests," he said. After graduating, Josh is looking forward to seeing how he will transition from living with his parents to living more independently "I know it will be challenging, but I want to see how I adapt," he shared. "Other than that, I'm looking forward to having a couple of months free after graduation where I can have time to reset, meet with friends, and say farewell before I leave."
Josh would also like to express gratitude for his time at Lincoln. "I would first like to thank all of my coaches who helped push me beyond my limits so I would improve and grow as an athlete. They taught me how to break that mental barrier and that anything is possible once I've passed that threshold," he said. "I would also like to thank all of my teachers who helped me develop my strong sense of work ethic. In challenging times, this aspect of mine has always shined."
Josh has two pieces of advice for Lincoln's youngest Snow Leopards. "Ask questions! It shows the teacher that you're engaged. And, if a coach tells you to run, RUN! Especially if their names start with Luke, Sam, or Arthur."
We are so proud of Josh and all of his accomplishments. Thank you for being a great Snow Leopard!