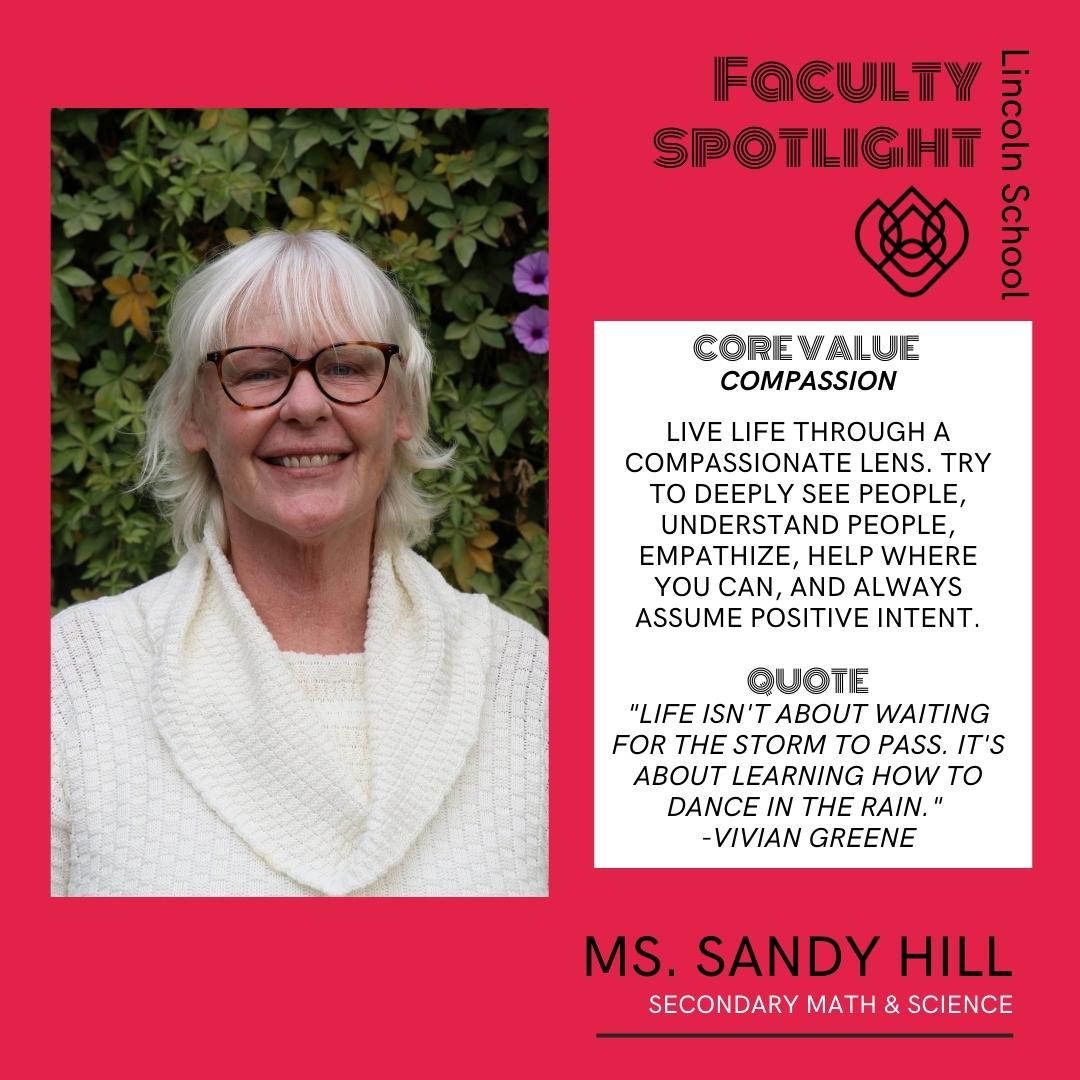 Faculty Spotlight: Ms. Sandy Hill
18 Mar 2022
-
Blog
,
Expressions
,
Global Citizens
,
Middle School
,
Pillar: Compassionate Global Citizens and Leaders
,
Pillar: Confidence and Competence to Pursue Dreams
,
Pillar: Passion for Learning
,
Pillar: Stewards of the Environment
,
Recent
,
science
,
The Lincoln Community
"People who are quietly amazing," inspire middle school math & science teacher Sandy Hill. "Amazing people that I encounter in my everyday life. And there are so many quietly amazing people if you are genuinely curious and listen to their life stories." Sandy joined Lincoln after working in the US, Egypt, Singapore and Dhaka. In Singapore, where she lived for 20 years, she and her husband adopted their son, Roscoe, from Cambodia, and daughter, Mags, from Vietnam. In addition to adventure and travel, Sandy shared, "The opportunities to experience new cultures and try new languages," as her favorite aspects of the international teaching lifestyle. Sandy is new to Lincoln this school year, but already feels connected to the school. "I love the 'smallness' of it," she said. "It sounds odd, but it's a 'real' school." Sandy is also linked to the wider community in Nepal, recently participating in a short film. "I learned how they actually shoot for a movie- the equipment, the cinematography, the many takes, and the seemingly random shots that make sense only in the director's mind," she described. We are excited to have Sandy share her passions and experiences with our students at Lincoln, and cannot wait to see her film debut!