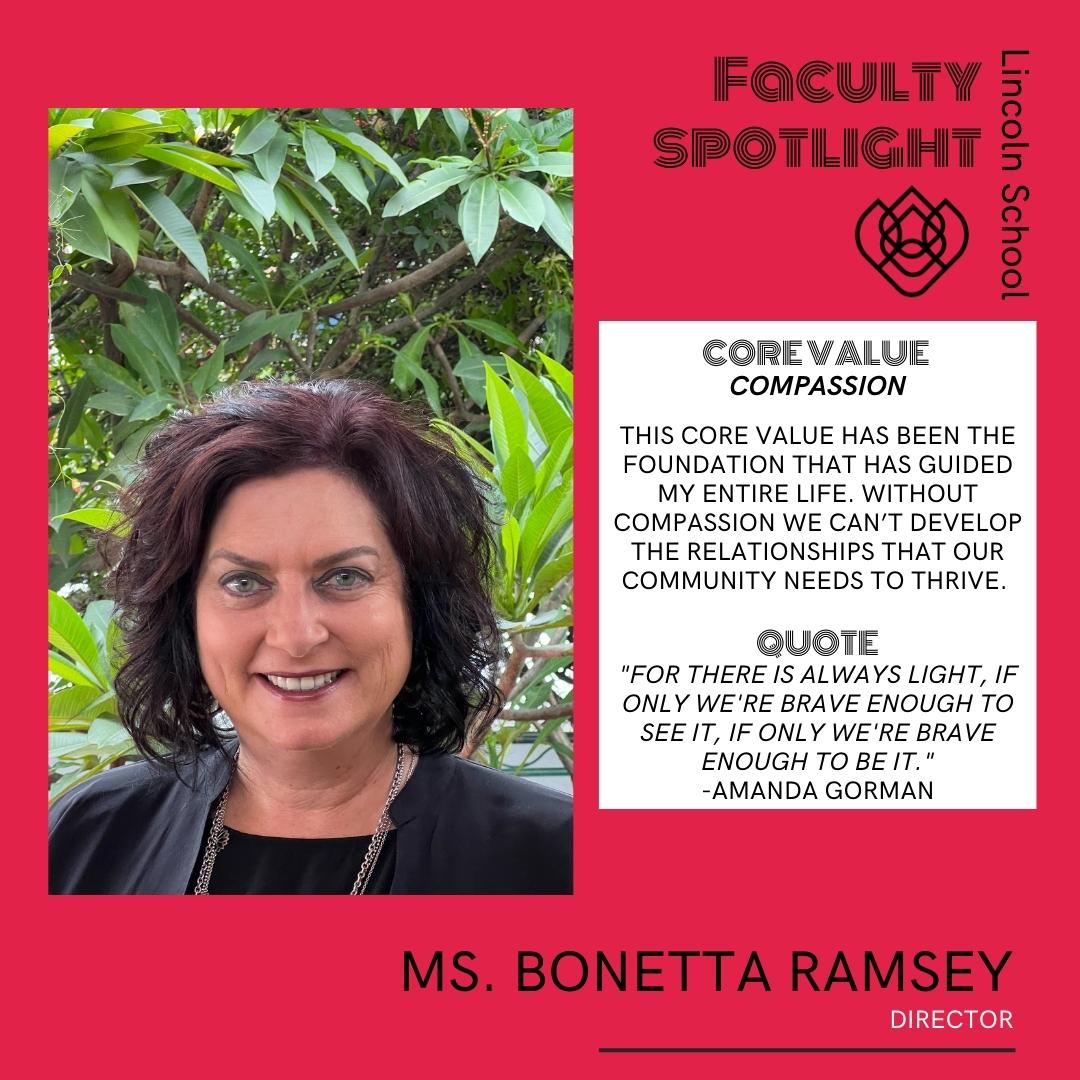 Faculty Spotlight: Ms. Bonetta Ramsey
Director of Lincoln School, Bonetta Ramsey, is inspired by the people around her each day. "I constantly find myself in awe of our special community at Lincoln," she shared. Bonetta was raised on a farm in Kentucky with her three sisters and parents. While she joked that "We were organic when organic wasn't cool," Bonetta also reflected that her upbringing helped instill values of hard work and the importance of developing deep, meaningful relationships. These values drew Bonetta to Lincoln School – a close-knit community that has continued to thrive under her leadership for over seven years.
Bonetta began her career in international education 29 years ago alongside her husband, Tim – a journey that has spanned the globe from Venezuela to Singapore and Japan before landing in Nepal. During that time, Bonetta has been a teacher, counselor, family therapist, Director of Student Services, Director of Admissions, Assistant Principal, Principal, and now Director of Lincoln School. Among all these experiences, Bonetta stated that the incredible exposure to different cultures and adventures is what she has loved about her time abroad. "Being in international education is new and exciting all the time," she shared. Specifically at Lincoln, Bonetta values how we live and breathe our mission. "It is not just a statement, it is real, and this is so evident in the alumni we meet and the families that are a part of our special community."
Bonetta deeply respects the position of Director and the responsibilities that come with it. "I understand the impact of my position and believe strongly in distributive leadership. I really do feel like I am working on the best team in the world." Bonetta's firm belief in service and compassion continues to help our community learn and grow. We are very fortunate to have Bonetta's leadership at Lincoln School through wonderful and challenging times.