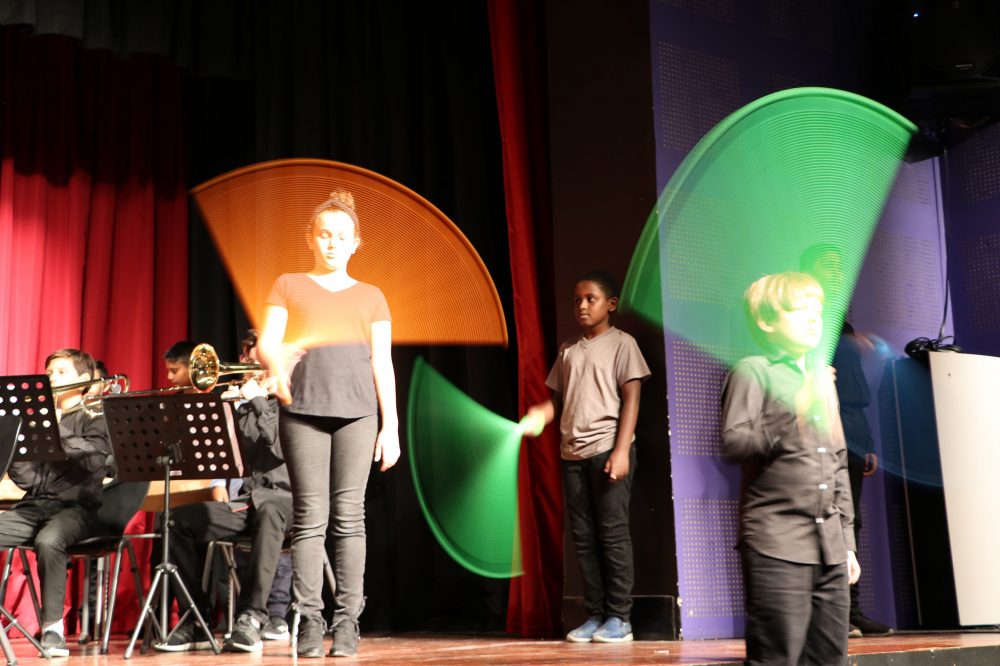 Lincoln's Secondary Musicians Present "One Voice"
15 Nov 2019
-
Activities
,
All Parents
,
Blog
,
Elementary Music
,
Events
,
High School
,
Middle School
,
Music
,
new
,
News
,
Pillar: Compassionate Global Citizens and Leaders
,
Pillar: Confidence and Competence to Pursue Dreams
,
Pillar: Passion for Learning
,
Recent
Lincoln School's Globe Theater was packed to the rafters on the evening of Thursday, November 14th, as musicians in grades 6 through 12 presented their Fall Music Showcase. The evening was kicked off with an upbeat number played by the Middle School Band. Soloists were featured in their second song, "Whirlwind" as Grade 6 accompanied on the whirlies (shown in photo)! Zero-Hour Band closed the first set, demonstrating a wide range of dynamics in "Azimuth" and "Algo-Rhythm".
The second half of the concert featured all the choral ensembles, kicking off with Grades 7 & 8, who closed with their Middle School music video "SING!" Grade 6 wowed us with their beautiful harmonies and pieces in English, Hebrew, and Swahili. To close the ensemble performances, High School Choir took the stage and shared their magic with all who were present. All the performers came together at the end to sing "One Voice"- a beautiful piece about connection to oneself and each other. Thank you to all who were present, and a special thanks to our Music department – Ms. Maura and Ms. Iris – as well as Mr. Matt B for accompanying the musicians on the piano.