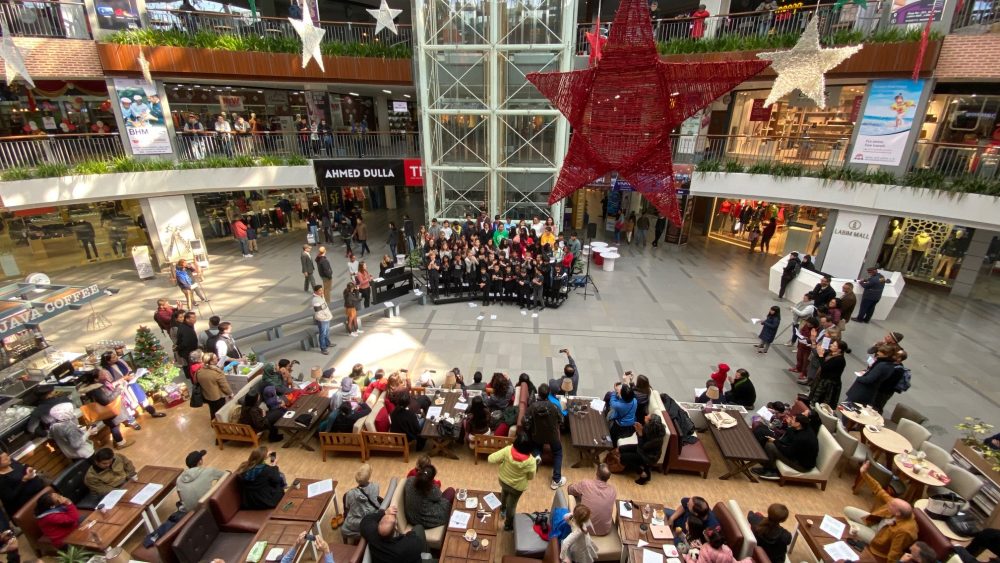 'Twas the Weekend Before Winter Break – Labim Mall Carols
16 Dec 2019
-
Activities
,
All_School
,
Blog
,
Elementary Music
,
Events
,
High School
,
Middle School
,
Music
,
News
,
Pillar: Compassionate Global Citizens and Leaders
,
Pillar: Confidence and Competence to Pursue Dreams
,
Recent
'Twas the weekend before Winter break, when all through the mall
Not a creature was stirring, in all of Nepal;
The shoppers were shopping in Labim with care,
In hopes that music would soon fill the air;
While children were waking up out of their beds,
Getting ready to sing, carols stuck in their heads;
Then they all started to show, and just like that
Labim Mall was full with songs, not chitchat,
When out in the mall shoppers heard such a clatter,
They sprang from the stores to see what was the matter.
Away to the balcony, they flew like a flash,
Looked over and saw people singing together at last.
The music floated up like snow
From where the children were singing there below,
More rapid than snow leopards everyone joined in who came,
And whistled, and sang, and applauded by name;
"Now, Honor Choir, now Middle School singers!
Now, High School choir and Mr. Balaban with his zingers!
To the top of the Mount Everest! To the top of the wall!
Now sing along, sing along one and all!
HAPPY HOLIDAYS TO ALL, AND TO ALL a good flight!
This past Saturday, Lincoln School sang community Carols at Labim Mall to close out our Holiday Season. We wish everyone a safe flight if they are traveling home for the holidays and thank you to all who participated at Labim Mall!
– Iris Kolodji