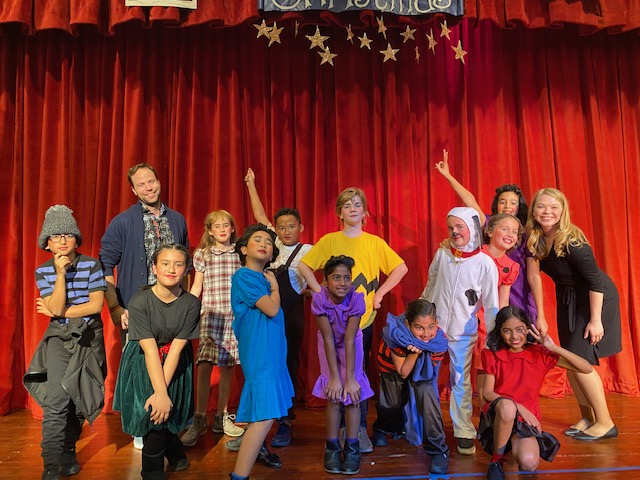 Lincoln's Elementary Performs A Charlie Brown Christmas Musical!
Charlie Brown: I think there must be something wrong with me. I just don't understand the Holiday, I guess. I might be getting presents and sending Christmas cards and decorating trees and all that, but I'm still not happy. I don't feel the way I'm supposed to feel.
Linus: Charlie Brown, you are the only person I know who can take a wonderful season like this and turn it into a problem. Maybe Lucy is right. Of all of the Charlie Browns in the world, you are the Charlie Browniest.
Those were the first lines heard at Lincoln School's production of a Charlie Brown Christmas Musical. All elementary children were involved in recreating this beloved story on stage as we move closer to the Holiday season. As the children streamed into the theater, the audience got their first glimpse of the class costumes. We had marshmallows, gold sequin jackets, snowflake poodle skirts, and of course, our Peanut characters dressed the part of their cartoon counterparts.
As the musical went on, the audience got to know the Grade 5 actors as they brought to life characters like Lucy, played by Bonny, or the musical genius of Schroder, played by Daniel, who added a little extra zeal to the part. Snoopy ice skated her way through the first scene and entertained the audience throughout the entire play as she sat next to her Snoopy house. The audience was treated to an array of songs that were seamlessly interspersed into the story. P1 sang "Marshmallow World," while Grade 1 lamented in their song, "All I want for Christmas is my Two Front Teeth." Grade 4 took us on a journey with their tune "Sleigh Ride," and Grade 3 brought the audience to their feet with "We need a Little Christmas." We cannot forget Grade 2's rendition of "I"m getting Nuttin' for Christmas," which they sang wearing plaid jumpers and overalls accompanied by a razzle-dazzle kick line. The performance ended with a swell of applause as the Grade 5 class sang, "All I want for Christmas is You."
– Iris Kolodji